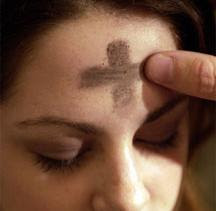 We're not far from the beginning of the season of Lent—a time to prepare, to reflect and to repent in advance of the new life of Easter. The doorway to Lent is Ash Wednesday, a rich time of turning to God in repentance and expectation.
Ash Wednesday is a day of fasting and prayer. As part of the liturgy worshipers receive the sign of the cross in ashes on the forehead, with the words, "Remember you are dust and to dust you shall return". This potent reminder of our mortality is vital to spiritual renewal and fresh beginnings in the Christ. The ashes serve a dual purpose.  First, as the above words imply, we are reminded of our mortality and humanity as we enter into the solemn season of Lent.  Second, the ashes are a Biblical symbol of repentance, sorrow, and humility.
This year we offer two services on Ash Wednesday (February 26): one at noon and one at 7:00 p.m. We encourage you to press in to God in prayer, silence, reflection and consideration of our need of Him, in order to receive a fresh experience of his love and forgiveness in this season.