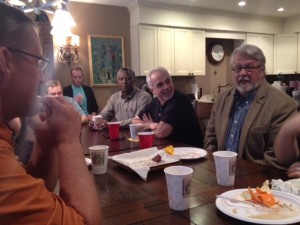 Community is important to our identity and our growth.  We don't effectively get through life on our own, and certainly as Christians we need each other.  Small groups help us to know and to be known, especially if we take the time to be honest and vulnerable with others that we are coming to trust.  If you will, there are no solitary Christians.
We offer a number of small groups in areas around northern Chicagoland, reaching from the city to the far northern suburbs. Our small groups are designed to be places to build connections with others from Redeemer, and to practice the "one-anothers" (such as "love one another" and "pray for one another") of Scripture.
Currently we offer the following small groups:
Chicago, Meets weekly in Logan Square or Winnetka
Deerfield, 1st and 3rd Sunday evenings
Highwood (Full at this time)
Lake Bluff, 1st and 3rd Thursday evenings
Redeemer "North" (Grayslake, Gurnee, etc.), Sunday afternoons
Redeemer "South" (Evanston, Glenview, etc.), every other Thursday evening
Women's Group, Wednesday mornings
Young Adults, Thursday evenings
For more information, please contact our church office.