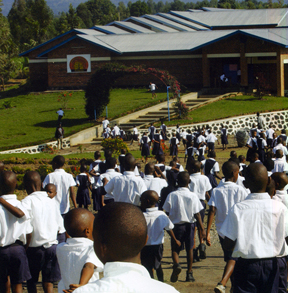 Over 100 days in 1994 the small east African nation of Rwanda was plunged into a horrible genocide—a time in which a million people brutally lost their lives. The world sat by and did nothing as ethnic tensions, inflamed for many decades by colonial powers, erupted. Following the genocide there were hundreds of thousands of orphans and shattered families, looking for a way to rebuild the nation and embrace hope.
In the late 1990s a bishop in the Anglican church of Rwanda began to move towards a dream to educate the next generation of Rwandans, so that there would be peace, hope and renewal in their country. Church of the Redeemer was one of the first groups in the United States to partner with Bishop John Rucyahana to launch Sonrise School, a school that would offer wholistic Christian education to those whose lives had been upended by war, murder and poverty.
In response, a few people at Church of the Redeemer organized a fundraising banquet to support the work of the school. Three years later the school was officially opened, even as funding efforts have continued each year to provide vital operational support for the school. Hundreds of children are being lovingly nurtured and shaped to know the power of knowledge, the power of God's love and the power of forgiveness. Church of the Redeemer is in a special relationship with St. Michael's, the school's chapel, as it serves the spiritual needs of students and nearby families.
Today Sonrise School continues its mission with orphans and children at risk—those who carry the scars of the genocide in their families and communities and those affected by the epidemic of HIV/Aids. Recently test scores placed Sonrise as one of the top schools in the nation of Rwanda.
Mustard Seed Project is the U.S. –based non-profit organization that raises funds for the school and other important work that is being carried on in Rwanda and Uganda. Church of the Redeemer continues its important annual fundraiser for Sonrise School, and we invite you to stay tuned or contact the church office for more information about our next event.