I wrote about our Rwanda trip last year, that one has to go "through" somewhere. I meant, on the obvious level, that there are no direct flights from the US to Kigali, Rwanda. In a deeper and more symbolic way, though, a traveler must go 'through' in another sense, as well.  Its a spiritual and a geographic movement. I decided this time around to travel through the UK, and add a few days just for a wee rest and retreat before the journey into Rwanda, which is always full and demanding, even as it is good and rich.
Canterbury has been a place of pilgrimage for almost 1,500 years. Christians and seekers of many stripes have been drawn to this place, and the cathedral itself, about 1,000 years old, is known as the 'mother church' of Anglicans around the world. People often begin their pilgrimages here to other locations, such as the Camino de Santiago in Spain, and there is usually a priest nearby to offer blessings over pilgrims. Robert Webber once wrote about those of us on the 'Canterbury Trail', and while the Anglican Communion works through a major and ongoing realignment, Canterbury still holds a vital place that we tend to look to, whether or not it looks back.
To visit here on the way to Rwanda marks it as a stop on a longer pilgrimage, especially as Canterbury Cathedral has long been associated with martyrdom and suffering (thanks to the death of Thomas Becket on this site at the hands of the king's men in 1170). Henry the 8th, who destroyed the shrine to Thomas (hundreds of years later) sought to eradicate the memory of a churchman who would challenge a King. Instead, its power to draw suffering pilgrims only increased. Rwanda, infamously, has faced its own dreadful suffering, but it has also known grace and the outpouring of the Holy Spirit in remarkable ways over the last 20 years. People are drawn there, as well. Rwanda speaks powerfully about reconciliation and offers new lessons for the life of the church as it faces its many struggles throughout the world.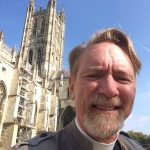 This morning, in the midst of the beauty of the best of Anglican liturgy, the sermon by the Dean of Canterbury touched on St. Francis of Assisi, as it did back in my home church of Redeemer. Francis was not only one who famously cared about the poor and the environment, he was a radical reconciler, who sought to bring people to God. All good pilgrimage is meant to do this–to reconcile us with God and one another. As I move from one important center of spirituality to another (Canterbury to Rwanda) my prayer is that the journey will not be a private one—but a reconciling one that will touch others.  I invite you to enter this journey with me in prayer and through the posts and reflections to come.  Grace and peace to you.  Thanks be to God.