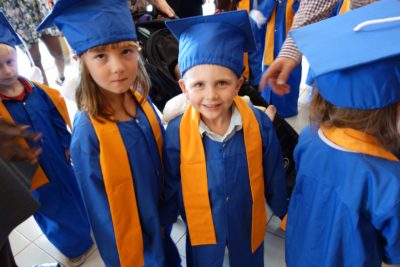 My trips to Rwanda are mostly about people.  Friends we have made over the years here in the Shyira Diocese and in Kigali, in the other intrepid pilgrims you meet along the way in airports and security lines, and especially our own families who have come to live here for a season, whatever time that ends up being.
We currently have two Redeemer families living in Rwanda—-the Carlsons (who have been here almost a year) and the Hanlons, who will mark seven years in Rwanda in just a few days.  Time can creep up on you, and you don't really notice, except when you mark it in the lives of children, who change more rapidly than those who are older.
I was thinking of that, especially, when I attended the graduation of Josiah Hanlon from Pre-K this week, as an honorary 'granpa'—a great honor, for sure.  Josiah was born here in Kigali, I baptized him while his family was on a trip back to Redeemer, and I have been privileged to be in his life, and that of his sister, Norah, and hope to be with any other Hanlon children who happen to come along. ;) Josiah is an African child, and is growing and developing in a culture that is far from that of his 'passport' culture.  He has trips back to the US to see family and friends, but most of his time is here, and someday, he'll need to work through both the gifts and challenges that such 'third culture' reality brings.  I'm grateful that he'll have more resources to do that then I did when living a similar kind of multi-cultural, nomadic existence 50 years ago.
But I truly believe that all Christians are called to live in this way.  In one place, but with an awareness of another.  We're gifted to be global people, so that in our attitudes and actions we transcend nation and tribe, prejudice and privilege.
Josiah gets that, although he can't describe it yet.  And he's still a kid.  After the ceremony he was tired and ready to get ice cream (a treat I had promised), not take a photo with Papa Jay— "No problem Josiah, you're still promoted to Kindergarten."