On my journey over to Rwanda I stopped for a couple of days in the UK.  I wanted to adjust to the time change, and also seek some contemplative space at Canterbury Cathedral.  Its hard to put into words the impact that a building can have—-in a place that has drawn pilgrims for almost 1500 years.  Its not a museum (although it gives witness to centuries of history), but a living community of Christian faith, with multiple services of prayer, word and sacrament each day. Its also a backdrop for awe inspiring and thought invoking art—stained glass, sculpture, glorious music, and temporary installations.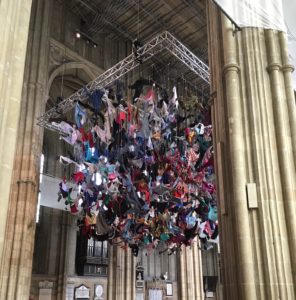 One such art installation is currently in place—-called "Suspended", it is comprised of hundreds of items of clothing literally suspended over the center of the Nave.  The artist conceived of the work after spending some time on the Island of Lesvos responding to the needs of refugees. She noticed clothing strewn about the beaches, each one telling the story of a person that was fleeing to what they hoped would be safety.  "Suspended", then, is a work of art to draw us to the plight of refugees, and to connect with the biblical narrative that is full of the refugee experience, including Jesus himself.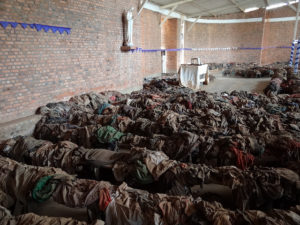 Seeing the clothes hanging in mid air immediately put me in mind of the other part of my journey—Rwanda, and the memorials I have seen to the 1994 genocide here.  In this case, the clothing of victims has been lift in place, a reminder of each person who was brutally killed.  In one instance, the church in Nyamata, thousand of items of clothing have been left on the church benches where people lost their lives as they sought refuge in the House of God.
Jesus said that we shouldn't worry about the provision of clothing that we need—-that God will care for us, like the flowers of the field (Matthew 6:28). Being human, which carries with it a unique quality of self-adornment, we do give attention to such things, often at great expense.  It's a way to display and qualify our unique personhood. But "Suspended" and the memorials in Rwanda remind us that it is the people behind the clothing that we should care most about, especially the plight of those who suffer, who, like all of us, wear the mark of God's image as the defining garment.
~Canon Jay