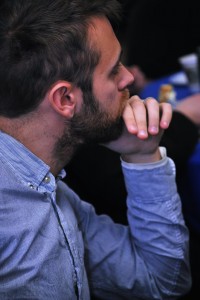 COR@9 is a unique opportunity to learn, discuss, and even teach alongside Christians from all walks of life.
On September 10th, we will resume our series on Story.  Learn more about our current series.
In the past, COR@9 has explored books of the Bible, such as the Gospel of Matthew, completed a three year survey of the Old and New Testaments ("One Bible, One Story"), studied other books such as One.Life by Scot McKnight, and covered topics such as Justice, the Book of Common Prayer, and Spiritual Gifts & Practices.
More info and resources from past series
Here's what people are saying about COR@9:
"I came to COR@9 and found friendship, excellent discussion, and deepened relationships."
"I began attending Redeemer regularly in the Fall as COR@9 started their series.  The interactive discussions and challenging of the 'status quo' thinking helped me get to know others and drew me into community.  Thanks for sharing all your thoughts."
"Probably the most precious thing about these morning discussions has been getting to hear from each other.  A lot of the ideas and challenges had been put to me in a classroom setting, which is interesting.  But they're ideas which are meant for a church to work through, not a class.  So seeing my church ask big questions about community and the kingdom was so encouraging."
"To get to ask difficult questions and talk about scary things in a group of people who are NOT the exact same age and life experience as me has been so precious and formative for me.  This newer, discussion-table-based version of COR@9 has become a very important part of Redeemer for me."
"What I enjoyed and benefited from the most were the new and enriched friendships."
"Book: good.  Discussion: great.  Facilitation/tactful handling of discussions: impressive.  Overall: pretty darn good."